Stop Calling Them "Bombshells"
The Internet in the Trump era has become a pile of unexploded ordnance, with the Atlantic's "suckers" story being the latest example
On September 3, Jeffrey Goldberg of the Atlantic published an article asserting that Donald Trump insulted veterans while on a trip to France in 2018.
Goldberg cited anonymous sources who claimed Trump called off a trip to the Aisne-Marne cemetery outside Paris. "Why should I go to that cemetery? It's filled with losers," Trump reportedly said. The Atlantic noted Trump's official reason for bailing on the trip:
[Trump] blamed rain for the last-minute decision, saying that "the helicopter couldn't fly" and that the Secret Service wouldn't drive him there.
Everyone in news agreed the story was a "bombshell," even conservatives challenging its accuracy. "Anonymous sources in the Atlantic's Donald Trump bombshell urged to go on the record," was the early Fox take. NBC described Trump's effort to return fire by rallying fans against the Atlantic his "latest effort to dispute the bombshell story," while CNN ultimately invited Goldberg on to clear some things up in an interview headed, "Journalist behind bombshell report speaks out."
The bombshell-ness was dubious. Trump in 2015 made on-the-record, on-camera comments about John McCain's military service that, to my mind, were at least as intense as what was alleged in the Atlantic report. "I like people that weren't captured" and "I don't like losers" are matters of record, and so is Trump's mind-bending response to that controversy.
In a debate in New Hampshire in 2016, Trump answered Jeb Bushself- about the "loser" comment (emphasis mine):
I never called John McCain a loser, as you know… I said he was a hero because he got caught, which is true, to a certain extent… I didn't call him a loser, so he's — you know, he's lied when he made that up… I never made a comment about him, and I never said that about John McCain.
Back then, nobody in media knew how to handle a politician who denied saying stuff he'd said on tape. Papers like the Times tried to emphasize the absurdity in the headline ("Donald Trump denies saying what he said"), while fact-checking outlets scrambled to point out other, written instances of Trump calling McCain a loser, for instance this humorously self-congratulating Trump retweet: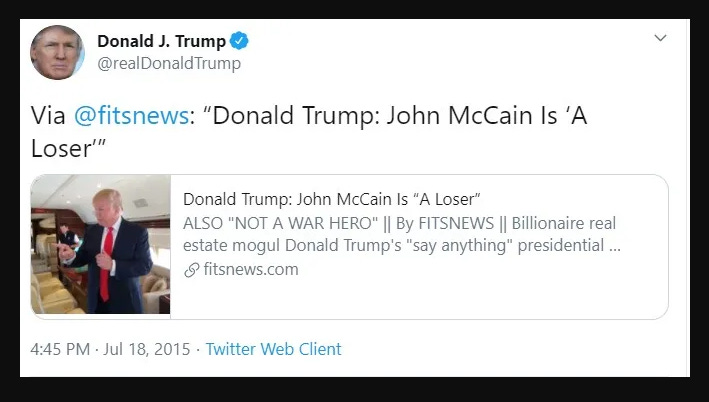 In the end, none of it mattered. When Mitt Romney joined Sean Spicer, Lindsay Graham, Ted Cruz, Rick Perry (who said Trump would be unfit to govern if he didn't apologize), Bobby Jindal and many others in denouncing Trump's initial remarks about McCain, Trump retorted:
Suddenly, "Trump insults veterans" became "Trump refuses to genuflect before two Republicans who lost to Barack Obama." The other spectacle, of Trump refusing to kneel before the forced-apology ritual campaign reporters had established for the likes of Gary Hart, Bill Clinton, and Howard Dean, also worked in his favor, as voters gave Trump a poll bounce for lying in the face of the hated press.
As far back as 2015, then, three things were established. One, Trump has no problem saying disparaging things about veterans who suffered in the line of duty. Two, he has no issue lying about it. Three, his voters don't care.
Yet this Atlantic piece is exactly the same story, down to the last detail. There's even a section in the Goldberg piece asserting that after McCain died, Trump said, "We're not going to support that loser's funeral." This led to yet another recent Trump denial in the exact same language as the one he employed in 2015 — "I never called John a loser" — followed by fact-checks correcting Trump in exactly the same way fact-checkers corrected him in 2015, pointing to the exact same tweets and tapes. It all feels like a hellish time-travel satire.
This is an excerpt from today's subscriber-only post. To read the entire post and get full access to the archives, you can subscribe for $5 a month or $50 a year.