"Controversy Creates Cash"
Or, how the Trump era has turned the news business into Wrestlemania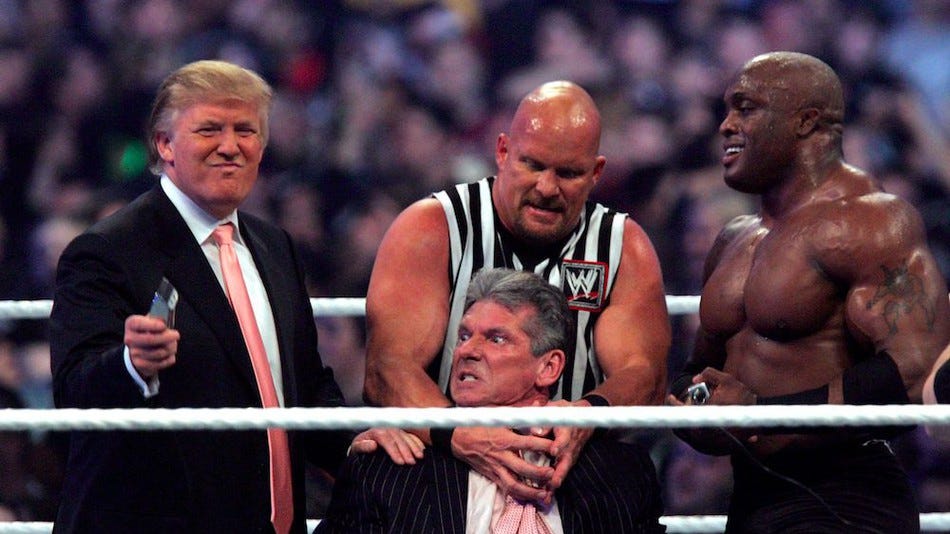 In Virginia in early 2015, a then-35 year-old pro wrestler who goes by the name Daniel Richards followed Donald Trump in amazement. In a creepy way, he understood he was watching a kindred spirit.
"He was doing what I do," he said.
Richards would later capture fame with a hilariously campy wrestling persona called "The Progressive Liberal." He enters small arenas, largely across Appalachia, wearing a shirt emblazoned with Hillary-Clinton-faces, screaming things to fans like, "You vote against your economic interests!"
The hardcore country crowds go nuts. Richards was and is a heel act. Pro wrestling depends on a core format of a villain versus a hero, in industry terms a heel versus a "babyface," or "face."
Out of this format springs an infinite number of storylines – partner betrays partner, hero "turns" heel, adversaries unite to fight for the flag or a woman. But it all starts with a bad guy, entering the ring with a swagger, shouting vile stuff at the crowd to get things nice and wa…
Keep reading with a 7-day free trial
Subscribe to
Racket News
to keep reading this post and get 7 days of free access to the full post archives.